Project Examples
Geophysics, and especially GPR, can be used in a variety of settings to 
study the subsurface, ranging from sand dunes to parking lots. 
In addition, GPR has been shown to be effective in mapping numerous 
different types of targets, including modern features such as piping, 
archaeological features such as house foundations, graves, 
fire hearths, and battle remains, 
as well as geologic features, 
such as stratigraphy.
Below are just a sampling of projects that used GPR….
Archaeology and Historic Preservation:
This survey at Ft. Garland in southern Colorado prospected for the buried foundation of a Civil War-aged bunkhouse. In one day, a GPR survey here covered most of the area where the bunkhouse once stood, and once mapped, showed the layout of the old building, including walls, an interior hearth, and individual rooms.

This is a 3D map that shows the changes in subsurface reflections, with red representing significant changes in the ground, and blues/purples representing more homogenous soils (referred to as an amplitude slice map).
| | |
| --- | --- |
| | On the banks of the Columbia River in the Dalles, Oregon, GPR was used to prospect for features associated with a campsite used by Lewis and Clark. The information from this survery was used to help construct a historic monument commemorating Lewis' and Clark's journey through Oregon. |
Buried metal was of particular interest in this survey because of the number of metal objects used by Lewis and Clark. This reflection profile shows the reflection from a buried metal item.
Cemeteries:
This cemetery in Brighton, Colorado was little more than an open field with only scattered headstones marking some burials. Two GPR surveys here have mapped numerous burials that were previously unknown to exist.
Often burials are best viewed in the radar reflection profiles, as seen below. This hyperbola-shaped reflection is typical of objects such as caskets.
This is a cemetery in Commerce City, Colorado showing examples of an area where no graves were thought to exist, and an area where graves were known. Both of these maps are amplitude slice maps showing how graves can be mapped in plan view (bird's eye view).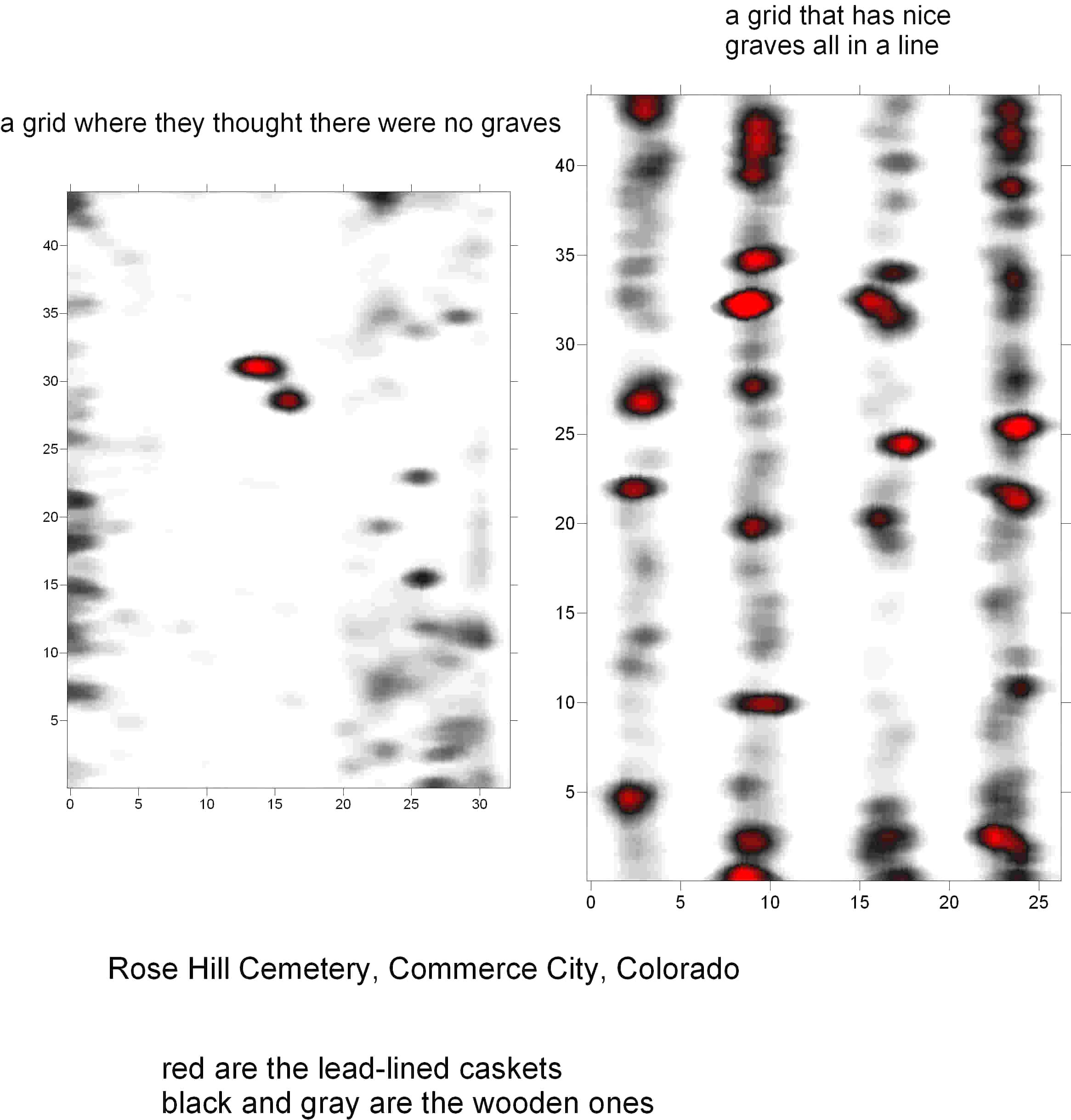 Construction/Engineering:
| | |
| --- | --- |
| The purpose of this survey was to prospect for piping associated with two buried tankards. This image is a sketch of what was believed to be buried… | And this image is a map of what the GPR survey found. |
| | |
This construction company wanted to map the footers of support I-beams inside of a building in Loveland, Colorado. GPR was able to map these footers, as well as the thickness of the cement slab covering the floor, which also contained wire meshing.
Geologic/Environmental Studies:
| | |
| --- | --- |
| | This survey, in Page, Arizona near Lake Powell, was intended to prospect for buried bedrock layers beneath sand dunes. |
The radar reflection profiles below show how GPR was able to map some of the complex stratigraphy in this area. GPR can be an effective way of mapping complex stratigraphic layers or buried sediments without destroying the integrity of the soil/sediment matrix.Raw reflection profile.
The same reflection profile with complex stratigraphic layers marked.
Palmer Lake, Colorado: GPR was used on this small lake south of Denver, Colorado while it was still frozen. Several isopach layers were identified and mapped using the reflection profiles, which were later cored for paleoenvironmental research.